OWNERS MANUAL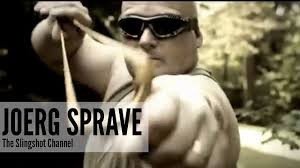 The RAMbone
Owner's Manual
Many thanks for purchasing this slingshot!
This little owner's manual is meant to help you understanding a few critical issues. Please read it carefully. In case you don't understand something described here, or if have any other question, please contact us at any time.
We also recommend that you watch the instructional videos we made (links are stated in related text passages) before you use your new slingshot.
The Slingshot Channel Store
Email: info@slingshotchannelstore.de
Helmut Nattler - Röttges Hof 10 - 45473 Mülheim - Germany
Safety Rules
1. Always wear safety glasses when you shoot or handle slingshots. These glasses should be compliant to the ANSI/ISEA Z87.1-2010 standard. Even if you are wearing correctional glasses already, it is necessary to wear such glasses in addition as correctional glasses do not protect your eyes against a snapping band or other potential hazards.
2. Always inspect your slingshot frame, the bands and the pouch before every shot. If you notice any kind of damage, do not shoot anymore unless the damage is completely resolved.
3. A damaged frame needs to be replaced. Do not try to repair it.
4. A damaged band set needs to be replaced. Do not try to repair it.
5. Never use stones or any other oddly shaped projectiles. Only use dense, spherical objects such powder, paint, glass, marble, steel or lead balls (sized 8 mm to 20 mm) with this slingshot. Any other projectile may damage the bands and/or the slingshot, and/or cause severe injuries, even death, to the shooter.
6. If you are inexperienced as a slingshot shooter, always start with powder or paint balls as ammo and the lightest band set we sell. For your own safety, never start your slingshot career with strong bands and big ammo. Move up very slowly as you are getting more experienced with practice.
7. The band sets sold by The Slingshot Channel Store contain latex.
8. Always use a safe backstop. Make sure there is nobody behind the backstop, and nothing of value.
9. Always be completely sober when you shoot your slingshot.
10. Never let a minor shoot a slingshot unsupervised by a responsible adult.
11. Never shoot against a hard surface. Ricochets can be dangerous.
12. Store your bands in cool, dry places, or else they will deteriorate quickly.
13. The bands are made from natural latex and WILL go bad at some point, no matter if you use them or not. Therefore they are excluded from any kind of warranty. Please refer to the further explanations in this manual how to get the best possible lifetime out of your bands.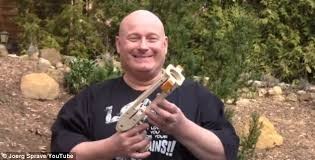 Liability Disclaimer
Upon purchase and/or use, you agree to hold harmless The Slingshot Channel Store. Helmut Nattler, Jörg Sprave, distributors, dealers, their partners, heirs, employees, or assigns of any and all product liability. You agree that the abovementioned will not be held responsible or liable for any consequential, direct or indirect or special loss, injury, or accidents caused by the slingshots, bands, ammo or any other items that we produce, promote, and/or sell. In all cases, the user assumes full responsibility and all risk associated with the use of our products. It is your (the user's) responsibility to check with local laws in order to be compliant regarding slingshots any any other products that we produce, promote and/or sell. Our products are not to be purchased or used by anyone under 18 years of age. We require any parents or guardians teaching those under 18 years of age to provide immediate supervision and assure use of proper safety techniques at all times.
If you have any further questions regarding safe use or slingshot related inquiries, please contact us using: info@slingshotchannelstore.de
Instructional Video
As a true spinoff from a YouTube channel, it is only fitting that the user's manual is a YouTube video. It can be found here:
http://www.youtube.com/watch?v=NKdFnR4mKcw
The video has all of the required information, including how to attach the bands, how to shoot properly, how to avoid fork hits and also how to test a frame that received a fork hit.
We absolutely recommend that you watch it BEFORE you shoot your slingshot.