Zielfernrohre Infos!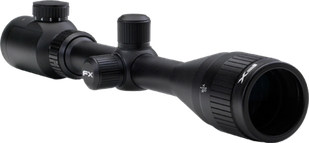 FX target telescope optics 3-12 × 44 ir / ao

High-quality target range of FX Airguns. Without holders.
FX optics 3-12 × 44 ir / ao
Lens diameter: 44 mm
Diopters Adjustment range: -2.0 / +2.0
Reticle I: lluminated Red
Parallax: 10 yds to infinity
Tube diameter: 25.4 mm
Total length: 412 mm
Total weight: 500 g
Lens coating: Fully multi-coated
FX Scopemounts
Available in 1 inch and 30 mm
Easily adjustable in height and angle
Solid locking design
Adjustable height 0.170 inches
Adjustable angle +/- 1.5 degrees
Width 0.785 "
Weight 4.2 Oz
Height 0.915 "- 1.085" (1 inch)
For 11 mm rail
SUTTER target telescope 3-12x50 d = 25,4 MD
inclusiv 11mm mountings, with Mildot-reticles!

Zoom 3 to 12 fold
Lens diameter: 50mm
Center Tube: 25.4mm (1 "inch)
Mildot reticle
Optimal eye distance: 75 and 95 mm
Measurements: 314x58x58mm
Weight: 390g
For mil dot reticles, small dots are placed on the vertical and horizontal lines of the crosshairs, with a diameter of 1/4 mils at a distance of 1 mil (one mil corresponds to approximately 1/1000 rad or 3.44 moles). These markings make it possible to improve shooting on moving targets and assessing distances.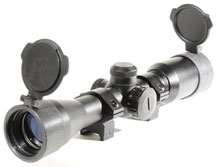 Swiss Arms Scope 4x32IR with Mil Dot reticles
The two dimensionally adjustable scope is suitable for prism or Weaver rail mount.
The lense has a 32mm diameter. 
Scope 4x32 IR Semi Polymer
Sights: Illuminated MilDot
for 11mm prism or 22mm Weaver mount (rings provided) 
Brightness: Five adjustable levels, red and green
Weight: 423 g / Total length: 255 m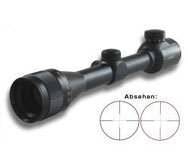 X-SCOPE 4x32 AOE target telescope

Incl. Holders for fastening and protective caps.
Technical specifications:
4x magnification
Side and height adjustment
Multicoating
Diopter compensation
Parallax adjustment on the lens
Illuminated lighting (11 brightness levels)
7-fold reticle (see illustration)
Retraction adjustment: 1/4 MOA click
Lens diameter: 32mm
Ocular diameter: 32mm
Center tube diameter: 25mm
Total length: 300 mm
Color: black Matt anodised
Material: high quality aluminum